Twenty-Ton Texas Treehouse
Season 1, Episode 1
Air date
May 31, 2013
Episode guide
Previous
None
Next
Luck O' the Irish Cottage
Twenty-Ton Texas Treehouse
is the first episode of
Treehouse Masters
.
Plot Synopsis
Edit
In search of more living space for their growing, multi-generational family, a Texas couple asks Pete to create a ranch-style treehouse in the hackberry trees on their sprawling property outside of Waco. Pete rises to the challenge and delivers one of the biggest treehouses he's ever built – a 75,000-pound house adorned with a traditional Texas exterior and a contemporary and luxurious interior complete with a full bathroom, a kitchen with top-of-the-line appliances and a flat-screen television, where the entire family can gather together.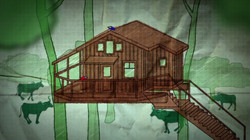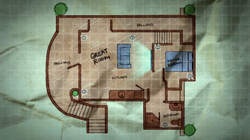 "
This Texas-sized ranch-house treehouse is going to be the biggest one I've ever built. 750 square feet. For access, we're gonna build a staircase to lead to this massive wrap around deck. And lots of windows, perfect for those Texas sunsets. Inside, we'll pour natural light into the Great Room, that's big enough for the whole family to gather. One of my biggest challenges will be running enough electricity to power that big-screen TV. While the inside will be all wired up, outside will be down-home country, covered with traditional Texan board-and-batten siding. I can just see the whole family up there, barbecuing away. Yee-haw!
"
Full Credits
Edit
Executive Producer: Mark Grove
Executive Producer: Garry Kief
Executive Producer: Troy Queen
Executive Producer: Kevin Leadingham
Executive In Charge of Production: Angela Solis
Supervising Producer: Nick Meagher
Production Manager: Joe Haskin
Lead Editor: Bradford Holt
Editors: Anna Dale, Michael Hellwig
Junior Editor: Kirk Murray
Art Director: Tory Jones
Directors of Photography: Brandon Adamek, Rick Rojas
Audio Mixers: Tyler Faison, Jamal Banks
Camera Operators: Beau Banning, Craig Constant, Jerry Gonzales, Channin Hesapene, Andy Redd
Aerial Photography: Eric Austin, Brad King
Assistant Cameras: Josh Skrobarczyk
Senior Casting Director: Meg McDaniel Brown
Casting Producer: Michelle Dela Cuesta
Manager of Development: Alexander Andrews
Post Supervising Producer: Erin Gamble
Story Producer: Darin Foat
Story Assistant: Jill Jones
Post Production Supervisor: Jeffrey Bown
Associate Producer: Casey Elliott
Assistant Editor: Nathan Tomaszewski
Rights and Clearances Coordinator: Janine Voyles
Post Finishing Facilities Provided by The Farm
Music by Vanacore Music
Graphics by Paul Thurwachter
Main Title Design by Playground Media Group
Promotional Consideration Provided by Allstate Insurance Company, Yellawood
Special Thanks to Scott + Cooner Furniture
For Animal Planet
Edit
President and General Manager: Marjorie Kaplan
SVP of Programming: Rick Holzman
SVP of Development: Charlie Foley
Manager of Development: Sarah M. Thompson
Production Manager: Sandy Haller
Supervising Producer: Vaibhav Bhatt
Production Coordinator: Sarah Russell
Executive Producer: Jason R. Carey
Produced by Stiletto Television for Animal Planet
©MMXIII Discovery Communications, LLC
Community content is available under
CC-BY-SA
unless otherwise noted.