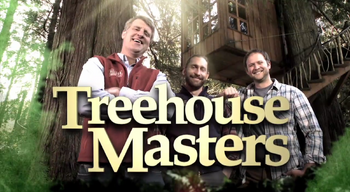 Treehouse Masters
is a reality television show on the channel,
Animal Planet
. It revolves around
Pete Nelson
, founder of
Nelson Treehouse and Supply
, and the amazing treehouses he and his company build. The show is being produced by
Stiletto Television
.
In Treehouse Masters, nature is literally at your doorstep; Pete Nelson, world-renowned treehouse designer and builder, provides the portal to life in the treetops. Beginning Friday, May 31, at 10 PM ET/PT on Animal Planet, Pete and his team of skillful craftsman, including his son Charlie, traverse the country to turn clients' sky-high dreams into realities. Often described as a tree whisperer by his clients, colleagues and contemporaries, Pete uses an approach that's part science/part art to create incredible homes and businesses that are sustained by nature's foundation - trees. From the start, Pete lets the trees do the talking, giving him solid information of where and how to erect each arboreal sanctuary. Then, he and his team execute the most outrageous treehouses designed to delight every whimsy, form and function. Whether he's contriving magnificent multi-bedroom treehouses with state-of-the-art kitchens and bathrooms or rendering simpler, peaceful one-room escapes, Pete always goes out on a limb to create the most breathtaking treehouses with spectacular vistas.
Community content is available under
CC-BY-SA
unless otherwise noted.